E-Bike Rides Around The Bellarine
Hiring an electric bike from Bella E-Bike Hire is a great way for an adventure on the Bellarine. The combination of catching the ferry from Docklands to Portarlington and riding an e-bike can make it a car and hassle-free day.
Many of Bella E-Bike Hire's customers have taken advantage of the cluster of good wineries near Portarlington. They have a great time and their e-bike winery quest follows a winning itinerary.
The day starts by catching the morning ferry with Port Phillip Ferries from centrally located Docklands to Portarlington. There is ample on-board bike stowage for friends who might be bringing their own bikes and the café will keep you fueled up for the day.
"Riding an electric bike … is like cruising on a Harley,
totally effortless."
The proprietor of Bella E-Bike Hire, Jeremy, will meet you at Portarlington Pier with your electric bikes and helmets. He will fit you with a bike and provide instructions on using it. The e-bikes are much like riding a conventional bike but the electric motor and battery gives you an automatic boost when you are pedaling. As Trailblazer800905's review on TripAdvisor stated "Riding an electric bike … is like cruising on a Harley, totally effortless." Not everybody would completely agree but they are loads of fun and help you tackle those hills.
Within 5km from Portarlington there are a number of wineries to choose from. Head up the Geelong Road and 20 minutes riding gets you to Bellarine Estate, Bennetts on Bellarine, Kilgour Wines, Terindah Estate, Jack Rabbit or Scotchmans Hill. Not to mention The Whiskery with their multi-award winning gin and the new cellar-door Lethbridge @ Hat Rock. All of the wineries are within a couple of kilometres of each other, so e-bikes are the perfect way to explore them and get some exercise. It is an adventure so there are some gravel roads.
The views at Jack Rabbit and Terindah Estate across Corio Bay to the You Yangs are sensational. The view from Scotchmans Hill back to the Melbourne CBD is picture postcard perfect. Food is available at the wineries with different menus and each has their own vibe. Check the websites from details and opening hours.
Finally ride back to the Portarlington Pier to catch the ferry home. If the joy of the wineries was too much, a call to Jeremy for a lift will get you safely back for the ferry. Port Phillip Ferries whisks you back to Docklands. On board get a nice cup of coffee, another wine or cold beverage to relax at the end of the day and you might even see dolphins frolicking in the water.
Book your e-bikes online or call 0439285825 to lock in your hire. Riders must have had their 18th birthday – sorry kids!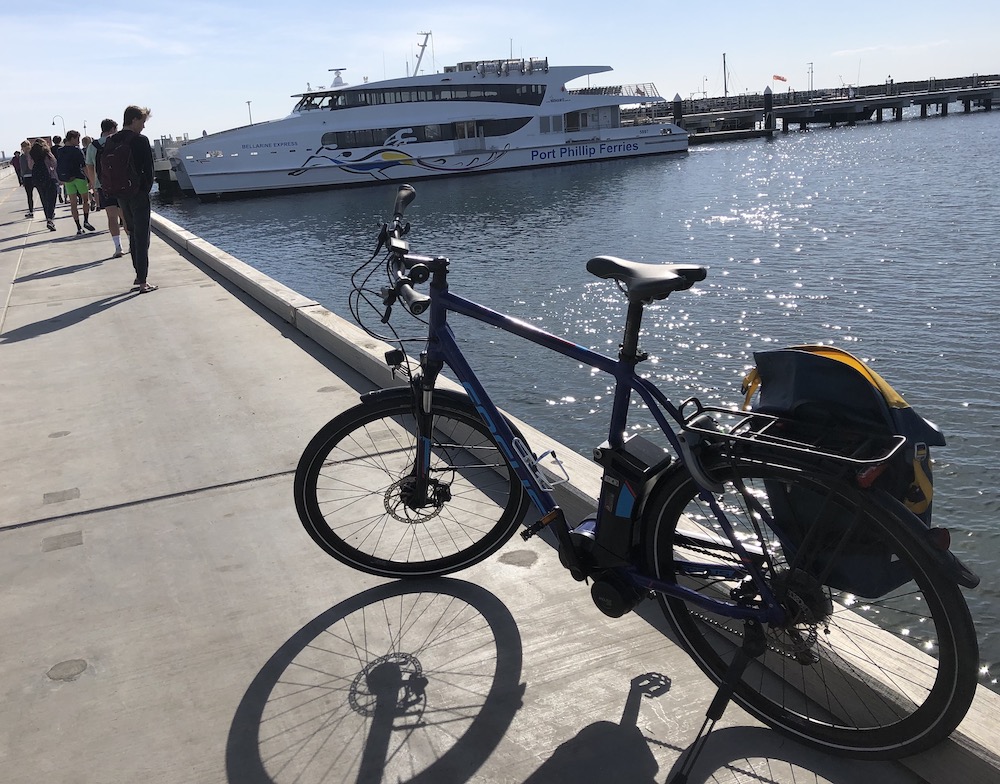 https://bellaebikehire.com.au/wp-content/uploads/2017/11/Bella-logo-FINAL-300x300.jpg
0
0
Jeremy Klitzing
https://bellaebikehire.com.au/wp-content/uploads/2017/11/Bella-logo-FINAL-300x300.jpg
Jeremy Klitzing
2019-04-08 12:04:46
2019-04-08 12:04:48
E-Bike Rides and Portarlington Wineries
So the car is going in for repairs for 7 days. Christmas is coming…
I can hire a car…
or hire an e-bike and try to keep some semblance of fitness at this crazy time of year.
Bella were easy to deal with, I had contacted them and lined up a central meeting point – normally Bellarine, but met in Geelong for drop-off as I'm from the surf coast. So super flexible too.
Jeremy assured me the Focus had more than enough range for my needs, and it did, easily.
I needed to commute 40km each way, hilly, stop -start and into a headwind every afternoon carrying a pannier. It did the journey never using more than half of the battery for the 80km I rode – so range was either spot on – or I was pedaling too hard.
Speed was ok. It was the legal 25kmph, our conservative regulatory bodies dumbing down a practical and capable solution to a car. Which meant an hour and forty five minutes to get from Anglesea to North Geelong. Not a long term solution, but good to see viability of different routes for maybe riding once or twice a week in future.
For touring though, the 25kmph is ideal. I was able to really appreciate the areas I was riding through. Ocean views, small pockets of bushland, dams and birdlife. In town I discovered each suburbs little quirks and distinctions, some great little coffee shops and specialist shops. Parking of course is a non issue and though I was never thanked, the drivers of Geelong should really celebrate another car off the road, making more room and less noise.
The bike came with excellent automatic lights so I was always visible (plus my neon helmet and gloves) For the most part I was pleasantly surprised by the courtesy of Geelong drivers. I was trying to be very conservative and stick to bike lanes, however the lanes around Geelong and Surf Coast leave much to be desired. Bellarine roads and bicycle infrastructure is far superior in my experience. So Bella have targeted the right area,however exploring further afield, such as the great ocean road is doable with some common sense in terms of time of day and riding single file and being conservative and visible.
Several days I rode were really hot.. in excess of 30degrees and I was amazed at how I was able to commute without overheating on these days. I just backed off a bit and let the bike do more of the work, keeping myself more comfortable. In fact one friend in his car stuck in roadworks commented later that I looked more comfortable than him in his car. Hills and wind were similarly dealt with. In the morning when I was fresh I would pedal as hard as I would on my road bike, aiming for max speed and fitness. In the afternoon with the wind in my face all the way, I would spin and survive,dropping only a couple of kph in speed. Honestly, if I was on my roadbike I would have been crawling along with the combination of heat, wind and having ridden in already and worked a full day.
So this is in my opinion the best advantage of the e-bike.You can still get fit, tour through amazing countryside, yet a friend could ride alongside you and spin with the bike supplying the extra effort needed to have a social ride around a great area. Fitness, injuries or just motivational can be supplemented by the e-bike for an enjoyable and more intimate experience of our region. Brilliant.
Thanks Jeremy, Bella and Geelong drivers… for a great week.
https://bellaebikehire.com.au/wp-content/uploads/2017/11/Bella-logo-FINAL-300x300.jpg
0
0
E-Bike Commuter
https://bellaebikehire.com.au/wp-content/uploads/2017/11/Bella-logo-FINAL-300x300.jpg
E-Bike Commuter
2018-12-18 18:41:07
2018-12-18 18:41:10
Commuting with Bella E-Bike Hire - Focus Aventura
https://bellaebikehire.com.au/wp-content/uploads/2017/11/Bella-logo-FINAL-300x300.jpg
0
0
Tayla Davies-Flanagan
https://bellaebikehire.com.au/wp-content/uploads/2017/11/Bella-logo-FINAL-300x300.jpg
Tayla Davies-Flanagan
2018-02-02 10:49:27
2018-05-12 21:53:01
E-Bike Riding the Bellarine Railtrail